It is a monthly(4 weeks) course for those who want to learn the Korean language after school or work. Learn speaking-focused Korean expressions ranged from everyday Korean to elegant Korean. We aim for a compact class size to make sure every student could have enough feedback time from professional instructors and feel comfortable before move on to the next chapter.

* Lesson hours can be adjusted if there are less than or equal to two students in a class.
*Social programs and activities are not included.
10% DISCOUNT EVENT(APPLIED TO PART-TIME COURSE TUITION)
Take Part-Time Courses(Evening Speaking / Evening TOPIK / Weekend Korean) now and save 10%!
Able to have short daily conversations using simple sentences and commonly used expressions.
Able to comprehend and apply correct grammar forms throughout conversation using diverse vocabularies.
Able to use filler words and phrases to express own thoughts and ideas fluently on different subject matters.
EVENING SPEAKING COURSE
ELEMENTS
Speaking Focused
This course in specific aims to develop students' speaking skills and help students become more familiar and comfortable using key phrases and words.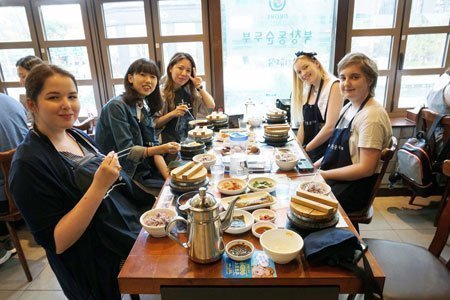 Practical
This course teaches practical Korean expressions that are useful in real-life situations. Learn to ask and answer questions that are suitable for daily life in Korea.
Systematic
Different learning tools, such as visual aids and games, are integrated into daily learning for better understanding and to help students remember well.
Small Class Size
We aim compact class because we care about your progress. Consistent feedback from teachers and enough answering time will make you feel comfortable.
EVENING SPEAKING COURSE
RESULTS
Improve your pronunciation and fluency in speaking Korean. With constant feedback from instructors, you can learn and enunciate natural Korean whenever possible.
You will strengthen all aspects of the language: speaking, listening, reading and writing. The longer you learn about Korean, the more you will find the beauty of the Korean language.
Language and culture are inseparable. Afternoon Social Programs will push you to dive into Korean culture. From old Korean tradition to new activities, discover Korea before your eyes.