INTENSIVE KOREAN COURSE 1
Suitable to all levels, this course is ideal for students who want to learn a wide range of expressions and vocabularies to enhance their understanding of the language further. Due to naturally smaller class sizes, it is perfect for those who would like to receive more feedback from the teachers and overcome any difficulties on specific grammar.
The extra practice hours will surely help to boost your confidence in completing the rest of your learning journey.

* Lesson hours can be adjusted if there are less than or equal to two students in a class.
INTENSIVE KOREAN COURSE 1
*Learning speed can be adjusted accordingly.

If you want to learn Korean from the alphabet, we recommend you begin the course in the first week of every month.
1A & 1B : Is able to introduce oneself and use simple sentences to express requests, willingness, and gratitude.
2A & 2B : Can have daily short conversations using a good mixture of both informal and honorific language.
3A & 3B : Is able to use indirect speech and other grammar forms to speak about daily life.
4A & 4B : Can understand Korean culture based on diverse vocabulary, stating pros and cons of general topics.
5A & 5B : Is able to use filler words like natives to express ideas fluently on a subject matter.
6A & 6B : Can produce academic writing; has the language proficiency to communicate freely in professional fields.
INTENSIVE KOREAN COURSE 1
ELEMENTS
In-Depth
With additional worksheets and interactive activities, the course will help put to practice the grammar and expressions learned in Regular Course.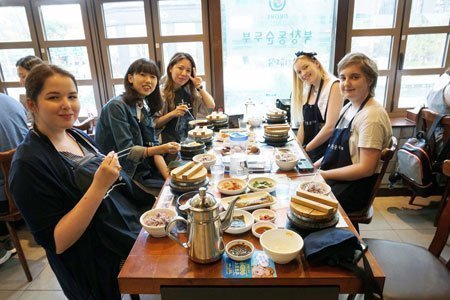 Practical
This course teaches Korean expressions that are useful in real-life situations. Learn to ask and answer questions that are suitable for daily life in Korea.
All Levels
There is no need to worry that the prerequisite to take the Intensive Course is to know a lot of Korean already. Available for all levels, Beginners can take it too.

Small Class Size
Generally, smaller class sizes compared to Regular Course. This environment allows more direct 1:1 feedback, and frequent Q&A sessions.
INTENSIVE KOREAN COURSE 1
RESULTS
Improve your pronunciation and fluency in speaking Korean. With constant feedback from instructors, you can learn and enunciate natural Korean whenever possible.
You will strengthen all aspects of the language: speaking, listening, reading and writing. The longer you learn about Korean, the more you will find the beauty of the Korean language.
Language and culture are inseparable. Afternoon Social Programs will push you to dive into Korean culture. From old Korean tradition to new activities, discover Korea before your eyes.