INTENSIVE KOREAN COURSE 2
Opened in 2020, Intensive Korean Course 2 is unlike any other courses at Rolling Korea. Designed to provide extra lesson hours on Wednesdays for those students who want to improve their speaking, this is suitable for those students who would like to attend school five days a week for more in-depth and thorough learning.
It is apt for those students who are in Korea for a short amount of time and would prefer to maximize Korean language learning experience.

* Lesson hours can be adjusted if there are less than or equal to two students in a class.
INTENSIVE KOREAN COURSE 2
*Learning speed can be adjusted accordingly.

If you want to learn Korean from the alphabet, we recommend you begin the course in the first week of every month.
1A & 1B : Is able to introduce oneself and use simple sentences to express requests, willingness, and gratitude.
2A & 2B : Is able to use a mixture of both informal and honorific language and have short daily conversations.
3A & 3B : Is able to understand and use expressions that are used in public facilities and in building relationships.
4A & 4B : Is able to understand simple newspaper articles/news and can enjoy Korean movies with Korean subtitles.
5A & 5B : Can freely express oneself in debates on current affairs using own thoughts; equivalent to TOPIK Level 5-6.
6A & 6B : Can produce academic writing; has the language proficiency to communicate freely in professional fields.
INTENSIVE KOREAN COURSE 2
ELEMENTS
Speaking Focused
This course aims to improve fluency by promoting a learning environment that pushes students to speak more and build confidence.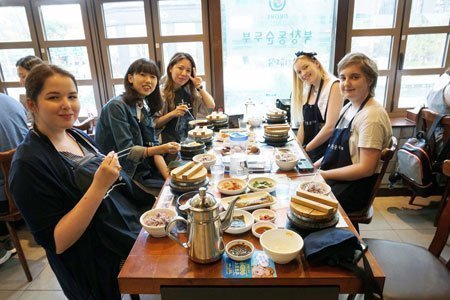 Korean Every Day
If ever worried that taking Wednesday off during the week will not help you learn Korean faster and remember longer, this course will ease your worries.
Diverse Materials
Apart from the general textbooks, optimize your learning using the different resources and materials selected and provided by your teacher to suit your level.
Small Class Size
Generally, smaller class sizes compared to Regular Course. This environment allows more direct 1:1 feedback, and frequent Q&A sessions are possible.
INTENSIVE KOREAN COURSE 2
RESULTS
Improve your pronunciation and fluency in speaking Korean. With constant feedback from instructors, you can learn and enunciate natural Korean whenever possible.
You will strengthen all aspects of the language: speaking, listening, reading and writing. The longer you learn about Korean, the more you will find the beauty of the Korean language.
Language and culture are inseparable. Afternoon Social Programs will push you to dive into Korean culture. From old Korean tradition to new activities, discover Korea before your eyes.