Welcome to the exciting world of Rolling Korea's Intensive Class, where learning becomes an exhilarating journey!
Our Intensive Class at Rolling Korea is designed to make your language learning experience both effective and FUN!
Step into our vibrant classroom, where the walls are adorned with colorful maps, inspiring quotes, and motivational posters. Our teachers are not just educators; they are enthusiastic language mentors, always ready to light up the room with their energy and passion for teaching.
You and your fellow language enthusiasts gather in a lively and supportive environment, forming an international community of learners. We believe that language learning is about more than memorizing vocabulary and grammar rules – it's about embracing culture, making friends from around the world, and immersing yourself in a dynamic and interactive experience!
As you progress through the course, you'll witness your language skills grow exponentially. And don't be surprised if you find yourself dreaming in the language – that's when you know you've truly embraced the linguistic spirit of Rolling Korea! Remember, at Rolling Korea, learning knows no boundaries, and neither does fun!
So, pack your enthusiasm, curiosity, and a sprinkle of humor, and join us for an unforgettable adventure of learning and laughter in our Intensive Class. Let's roll together towards language fluency and lifelong friendships!
* Class hours includes social programs and activities.
* Lesson hours can be adjusted if there are less than or equal to two students in a class.
* Class hours includes social programs and activities.
* Lesson hours can be adjusted if there are less than or equal to two students in a class.
RK Intensive Korean course

progress bar
* Learning speed can be adjusted accordingly.
* If you want to learn Korean from the alphabet, we recommend you begin the course in the first week of every month.
1A & 1B : Is able to introduce oneself and use simple sentences to express requests, willingness, and gratitude.
2A & 2B : Is able to use a mixture of both informal and honorific language and have short daily conversations.
3A & 3B : Is able to understand and use expressions that are used in public facilities and in building relationships.
4A & 4B : Is able to understand simple newspaper articles/news and can enjoy Korean movies with Korean subtitles.
5A & 5B : Can freely express oneself in debates on current affairs using own thoughts; equivalent to TOPIK Level 5-6.
6A & 6B : Can produce academic writing; has the language proficiency to communicate freely in professional fields.
RK Intensive Korean
elements
Korean ability in all skills
This course aims to improve fluency by promoting a learning environment that pushes students to speak more and build confidence.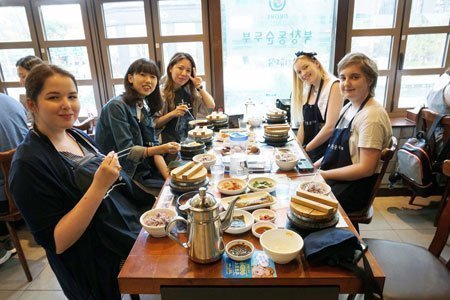 If ever worried that taking Wednesday off during the week will not help you learn Korean faster and remember longer, this course will ease your worries.
Apart from the general textbooks, optimize your learning using the different resources and materials selected and provided by your teacher to suit your level.
Generally, smaller class sizes compared to Regular Course. This environment allows more direct 1:1 feedback, and frequent Q&A sessions are possible.
RK Intensive Korean
includes
With RK's Special Focus lessons, experience authentic Korean like never before. This activities class links the latest trends, Korean culture, and real-life applications together, allowing you to enjoy 'real Korean.'

* The Intensive course includes 6 hours of Special Focus lessons.
Social programs and activities
Breathe life into your study abroad with social programs and activities. Make new friends worldwide and discover a dynamic Seoul while making unforgettable memories through the programs and activities held every week.

* While the all-inclusive course offers a variety of activities, not all are included in the price.
Are you dreaming of a home for your dazzling life in Seoul? Enjoy your days in the trendiest area with accommodation carefully chosen for you. A comfortable and safe study abroad awaits you.
Mini Studio is a small housing facility. The room is very compact, with a private bathroom and shower for your convenience.
The bedroom and bathroom are spacious and very comfortable for a person staying.
Learn Korean &
discover Korea
All services in one place
Learn Korean & discover Korea
All services in one place
What's going on in
Rolling Korea
Unforgettable memories and everlasting friendship